Lourmarin
Lourmarin, Provence village outstanding, ranked among the most beautiful villages of France and combines charm and authenticity, is one of the pearls of Luberon. There is an atmosphere at once cultural, gastronomic, but most of all very friendly and always very Provencal that you can enjoy every day of your vacation, strolling through the streets, relaxing on the terraces, as all those who come from the four corners of the world to live "the dream of Provence." Come and enjoy your holiday in the sun of Provence !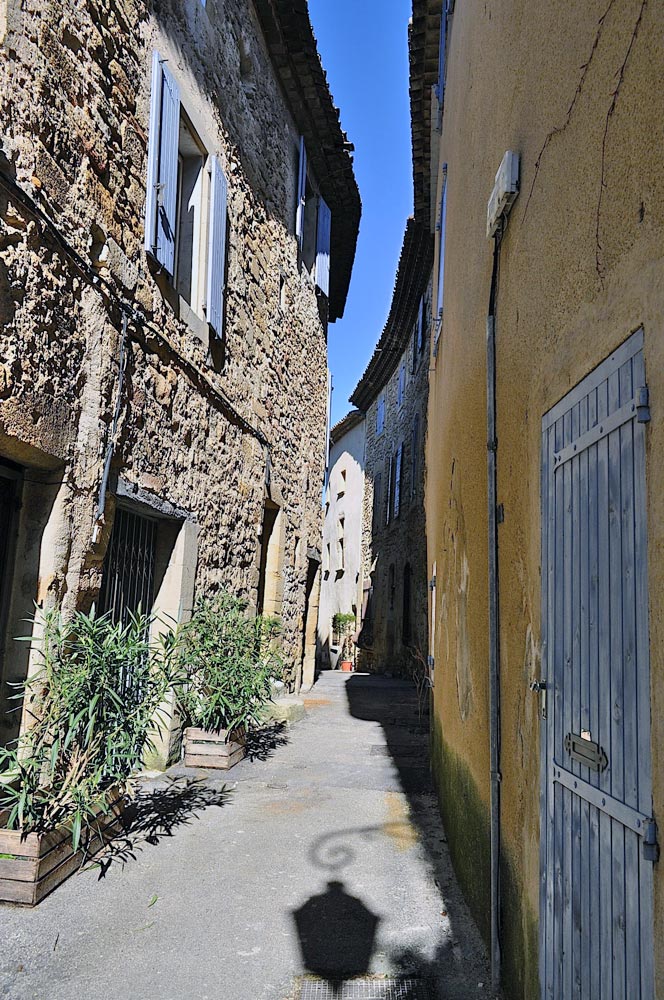 "
Lourmarin, the most charming village in the Luberon
", Bosco wrote love the beauty of its landscape with smooth curves and bewitching. Camus does not remain insensitive to this small corner of the Mediterranean that also grow at a house to buy some time to settle.
The religious history is not to discard: the Church of St. Andrew and St. Trophimus, with its splendid arches. Its curious baptismal font that recalls the presence of the manor who built the village and its castle, as well as its imposing bell tower, is the Protestant church of the nineteenth's clock and belfry to the definition of Lourmarin village of the three towers.
Even if it is a quite small town (1200 persons live there full time). We already know the love of great painters (most of them impressionists) for the beautiful Provence but men of Arts and Letters, Henri Bosco, Albert Camus, Jean Grenier, and many more were seduced by Lourmarin. It is a village where it is good to live.
Lourmarin is considered the cultural capital of the Luberon and In our days, a new generation passionated of music is growing in Lourmarin.
There are no traffic lights in Lourmarin, no paying parking spots, everybody parks his car and enjoy walking in the small old streets…
Rue de la Juiverie (called like this for what was the Jewish ghetto in the Middle Ages) is actually the oldest one. Walking through rue de la Juiverie is like crossing the mirror and go on the other side of it. Since a few years, rue de la Juiverie is becoming more and more the interesting location for antiques stores, art books, elegant designers boutiques, and tea rooms. It is almost "a village in the village".
Keep your friday morning to spend in Lourmarin: you will have the opportunity to immerse yourself int the unique market of Lourmarin (the best of the area). You will be charmed by the provencal atmosphere, its smells, its colors, its accent, all traditional and local products (pottery, linens, honeys, jams, breads, cheeses, olive oils, tapenade, olives and herbs…) and many other things like clothes, hats, baskets, jewelry.
From your base in Lourmarin, you will visit all Provence in a short driving distance. Aix-en-Provence, Avignon, Arles, St Rémy and Les Baux de Provence… The famous seaside spots of the French Riviera as: Saint-Tropez, Gassin, Ramatuelle, Saint-Maxime… The picturesque perched villages as: Grambois, Gordes, Menerbes, Roussillon, Bonnieux, Goult, Ansouis, Cucuron, Vaugines, Oppède-le-Vieux, Lacoste… You can reach also easily La Camargue and its horses, Le Verdon and its depths.
The landscape is gorgeous! Olive trees everywhere, smooth hills covered with vineyards, forests, and in summer purple rows of lavender… And in the back, the good giant of Luberon, dominating its Paradise.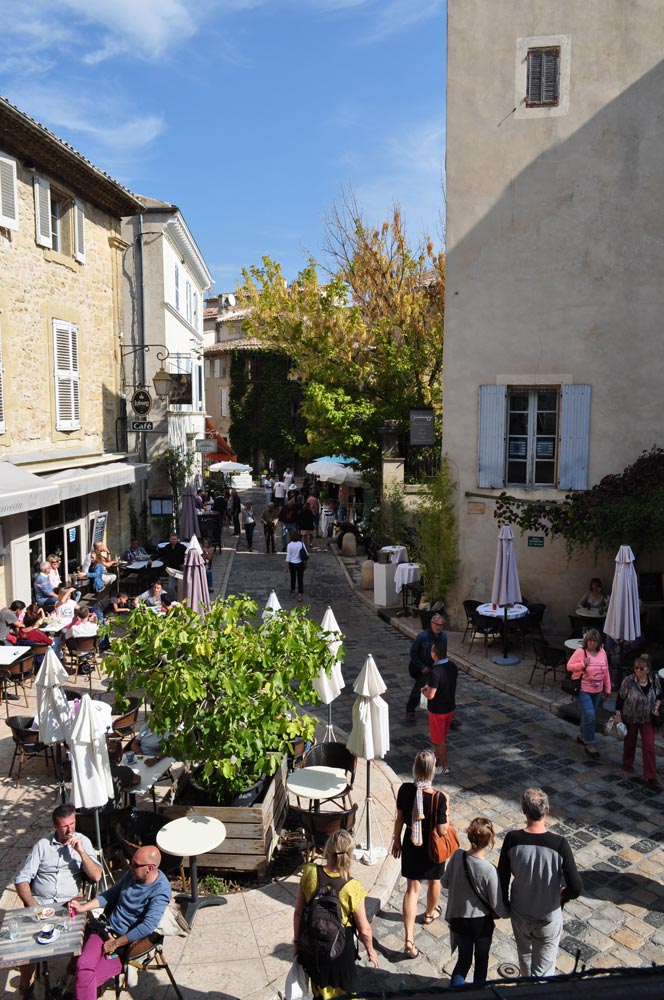 Visit Lourmarin
It is surrounded by vineyards, olive and almond trees that nestles the village of Lourmarin labeled "one of the most beautiful villages in France". Busy summer with its many street cafes, restaurants and shops of Provence, Lourmarin is one of the leading villages of the Luberon. Lourmarin has a castle of the fifteenth and sixteenth century, which is worth visiting for its curious staircases and beautifully furnished apartments (only the Renaissance castle is open to the public).
This magnificent building was the first Renaissance chateau in Provence. It consists of a portion of a wing medieval and Renaissance, and is fully furnished. In the early twentieth century, he escaped total destruction by a scholar and art lover, Robert Laurent-Vibert, who restored from archival documents and old engravings.
The Castle is now nicknamed "The Little Villa Medicis in Provence", because it hosts artists and scholars in residence during the summer.

www.chateau-de-lourmarin.com
THE BEFFROI, SAID AS « SALT BOX »
The bell tower, housing the public clock was built in the seventeenth century by the community on a wall in the small device sitting vestige of the old feudal castle. This entire site was listed in 1942. The bell tower, also known Castellas, introduced the theme of castles motte. It is sometimes called the "salt box" because of its resemblance to the boxes that formerly were hung in the kitchen.
THE ROMAN CHURCH ST ANDRÉ
The Church of Lourmarin (eleventh century), part of the diocese of Avignon, was first linked to the history of the famous priory of Saint-André-de Villeneuve les Avignon. It was then without a chapel choir made ​​up of two bays only. This church, which are mixed Romanesque and Gothic arts, has undergone several restorations and additions, including a chapel with an admirable collateral liernes vault and third.
THE MARKET OF LOURMARIN, TYPICALLY PROVENCAL
Fruits and vegetables of all flavors, all colors range of fragrant herbs and plants, fresh or dried, goat cheese in pavement, or log in pyramid, array of olive oils, honeys and jams in thousands perfumes, baskets of strawberries, Muscat grapes, campaign bread and focaccia flavored… a standing invitation to the journey of the senses… Lourmarin market is one of the largest in Vaucluse, and every Friday morning offers a multitude of choices of local products and crafts to delight your eyes and delight your taste buds !
Antiquaires - Flea Markets - Art Galleries
A lot of art galleries, craft shops and antiquaires. A few addresses…

La Galerie du Temple
Rue de la Juiverie – Tel 04 86 78 29 99
Magnificent gallery, with arcades, height under ceiling, balcony overlooking the main square, Place de l'Ormeau. Christine, the owner, welcomes you so friendly. Cosmopolitan works of contemporary artists from around the world, mainly European and Latin American; Sculptures and paintings.

La Galerie du Dôme
3 rue du Temple – Tel 04 90 77 88 26
The couple of artists, Yola and Georges welcome you in their pretty gallery, in the heart of the village. Do not forget the 2nd room !!! Sculptures and paintings, Contemporary.

Le Zèle des Anges
Rue du Temple – Tel 06 19 95 74 44
Gérard, emblematic figure of the village welcomes you in one of the most beautiful galleries of Lourmarin. For almost 15 years, the sensitivity and personality of the artist will transport you into his "world". Permanent exhibition. To discover absolutely!

Galerie Marchal
Rue Henri de Savornin – 06 26 52 26 54
Very beautiful gallery in an elegant setting, 3 vaulted cellars shelter the paintings of Thierry Marchal, a quite famous artist painter in the area. He restores in all its purity and brilliance the light so special of provence.

www.ateliermarchal.fr

Côté Vintage
13 rue de la Juiverie – Tel 09 70 99 74 21
From the outside, we already want to get in! … Design floor lam, aged furniture … a multitude of objects, all styles combined, but always in the retro spirit that immerse you immediately in a warm atmosphere , A mixture of influences of the Roaring Twenties, fifties and more eccentric seventies …

Contrastes
9, Ave Philippe de Girard – Tel 04 90 79 62 70
A real multi-faceted cave of Ali Baba; Warm Patrick's welcome who will find for you the small antique furniture, the retro jewel, the rare object to complete your collection!

Rose de Bagatelle
18, Rue du Temple – Tel 04 90 79 12 82
Nanou and Tatiana welcome you in the heart of the Rue du Temple in a true fashion "Boudoir"! In this very feminine atmosphere you will certainly find the outfit you are dreaming of… that you can match with a nice fancy jewel or other accessory.
In the second room a large choice of gift ideas and decorative objects, always at low prices!
Restaurants - Tea Shops - Coffe and Bars
Lourmarin is holding numbers of restaurants, coffee's and bars…
Easy to find what you like, for every taste, every style, every prices…

Cave coopérative
Place H. Barthelemy
A large choice of wines from the Luberon region, red, white, rosé… Alcools and liquors…

La Maison d'Ingrid – Epicerie fine
Rue du Temple – Tel 09 53 96 96 61 / 06 13 32 46 62
Hervé, your gourmet grocer welcomes you every day for your greatest happiness, and makes you discover in his singing Provencal accent, with enthusiasm and passion, his world of gourmets and gourmands products: a beautiful selection of wines, candied, jams, and other refined meals that will compliment your gustative breaks.
Tasting of "rinquiquin" and absinthe among others, for amateurs…
Platter of charcuterie and refined cheeses, gift boxes for the holidays …

Salon de Thé « La Calade »
Rue de la Juiverie – Tel 04 90 68 04 44
Dominique welcomes you in a family atmosphere, at the bend of an alley, a little out of sight. Quiches, pies, and sweet tarts "homemade". Large selection of teas. Charming shaded patio.
Prices: Around 10/12 €.

Le Bistrot
2, Avenue Raoul Dautry – 04 90 68 29 74
Specialized in the Lyonnaise cuisine. Beyond the "typical" Mediterranean dishes, there will also be more exotic flavors, especially of Asian origin.
Prices: Dishes 15 € / Menu 28 €

review

La Louche à Beurre
Avenue du Rayol – 04 90 68 00 33
In an authentic and cozy setting, enjoy excellent and large "crêpes" as well as tasty grilled meats…. Terrace.
Prices: Dishes from 8€ to 24€

review

L'Insolite
Place de la Fontaine – 04 90 68 02 03
Brasserie / Pizzeria. Shaded terrace, in the center of the village.
Prices: Dishes from 8,50€ to 15€

review

Pizzeria Nonni
2, rue Albert Camus – 04 90 68 23 33
Pizzeria, Trattoria, Italian cuisine and pasta specialties. Cuisine based on fresh seasonal products. Terrace.
Prices: Fast formule: 13,50 € / Menu of the day: 15 €

review

Numéro 9
9, Rue du Temple – Tel 04 90 79 00 46
Excellent value for money. A selection of fresh, seasonal products. Semi-gourmet cuisine, refined and balanced, always original in the mixture of flavors and in its presentation, in a cozy setting; The summer terrace with its fountain, gives it a special charm. Liz and Patricia will put the little dishes in the greats to satisfy your taste buds and make you spend a very nice moment, with their dynamism and their personalized welcome.
Prices: Menu between 26€ and 30 € for lunch. Main course at 28 € or menu at 48 € (entrée + main course + dessert) in the evening.

Le Café de la Fontaine
Place de la Fontaine – Tel 04 90 68 36 96
Surely one of the best receptions of the village! Let yourself be seduced by Carine and Paul ultra sympatic, who will know how to put you at ease, to taste their selection of Corsican products: fine charcuterie, cheeses, wines of the region… Excellent grillades with wood fire.
Prices: Between 15-30 €

La Réserve
Place Henri Barthélémy – Tel 04 90 77 83 54
Fred, the boss, welcomes you discreetly, but not less sympathetically. Large shaded terrace. Simple kitchen, on slate, well presented. Fresh products. The famous "Plate of Tapas" in summer is unavoidable, around a glass of wine, from its pretty selection.
Prices: Between 10 & 25 €

Le Café de L'Ormeau
Place de l'Ormeau – Tel 04 90 68 02 11
Traditional, French and Italian cuisine. Large selection "à la carte": meats, fresh fish according to arrivals, mixed salads, bruschettas, risottos, pasta …. Copious ! Good value for money. The most beautiful location of the village. Superb terrace; Elegant and romantic.
Prices: Appetizers and dishes between 12 € and 25 €

Le Bamboo Thai
Route d'Apt – Tel 04 90 68 88 15
For traditional Thai cuisine at the exit of the village, in an exotic decor, typically Thai, with colorful and spicy flavors. Pond, lawn, deckchairs …
Prices: Between 15 € and 18 € the course.

Café Gaby
Place de l'Ormeau – Tel 04 90 68 38 42
The most "local" of the village. You will love to meet some emblematic figures. Known for its friendly atmosphere during the broadcast of soccer games and other rugby matches!

Café de l'Ormeau
Place de l'Ormeau – 04 90 68 02 11
The most beautiful terrace in the village. Ideally located. Warm and friendly atmosphere, quality snack, dish of the day at noon. Beautiful shaded terrace behind the inner room; Elegant setting, romantic ambience.

review

Le Café de la Fontaine
Place de la Fontaine – Tel 04 90 68 36 96
Ideal for extended aperitifs!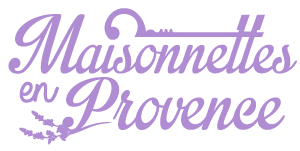 Les Maisonnettes de Lourmarin
Rue de la Juiverie 84
160 Lourmarin (France)
SIREN 428 473 193
maisonnettesenprovence@gmail.com